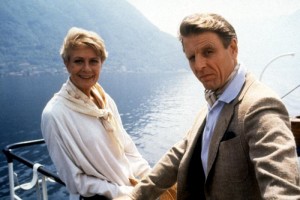 A month by the lake
A month by the lake is a 1995 romantic commedy starring Vanessa Redgrave, Edward Fox and Uma Thurman. It is directed by John Irving and is based on the novel by H.E.Bates.
The movie tells the story of Miss Bentley,  a spinster that decide to spend her summer holiday in Lake Como with her father before World War I. In 1937 after her father death she returns to Lake Como, to clear the air. She meets a bachelor named Major Wilshaw and becomes interested in him, even if a young American girl named Miss Beaumont arrives and flirts with the major.
Parts of the movie scenes were filmed in Varenna, Bellagio and Lierna area, Lake Como.