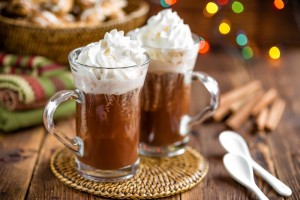 Warm up with a break
During the holiday can happen a rainy day. Unfortunately when it happens, the only things to do is go to a nice bar and drink an hot chocolate as those who prepareted the mom, or  if you prefer something strong and typical, like espresso or capuccino.
Well, Lake Como area is full of bars and coffee shops, pastry shops and bakeries where you can spend confortable and warm breaks, relaxing and chatting while you wait for  the clear sky back.
Also within the ancient walls of Como there are a lot bars and coffee bars. Situated very close to the old center of Como, the main streets where you can enjoy tasty breaks are Via Milano and Via Giulini. Walking towards the center there are many bars in Via Mentana, Via Giovio, Via Rusconi, Piazza Vittoria, Via Diaz, Via Vittorio Emanuele II, Piazza Mazzini, Via Ballarini and Via Luini. If you would like to have a relaxing break in front of Lake Como, Piazza Cavour, Lungolario Trento and Trieste and Via Borgo Vico have a remarkable offering.
The fragrance of bread and pasta will inebriate you along Via Muralto because of a historic pasta shop along that street. For a sweet and savory break, there are several bakeries and pastry shops.